Tennis Finger Tape is a special type of tape used by athletes to protect their fingers from injuries during sports such as tennis, racquetball, squash, badminton, and other similar activities. The tape is designed to provide a cushioning effect that helps reduce the risk of finger injuries such as blisters, cuts, and abrasions, as well as providing added support and stability to help prevent the fingers from bending too far back. It is usually made from a thin, stretchy material such as cotton, latex, or synthetic, and comes in a variety of colors and sizes to suit different athletes.
Definition of Tennis Finger Tape
Tennis Finger Tape is a specialized athletic tape designed to provide support and relief to the fingers and hands of tennis players. It is a durable and flexible tape that is applied to the fingers before or during a match to help prevent injuries and alleviate pain. The tape is designed to provide extra support to the tendons in the fingers, which helps to reduce stress and strain on the hands, wrists, and arms. It also helps to reduce the risk of developing tennis elbow, a condition that can cause chronic pain and limit mobility. Tennis Finger Tape helps athletes to perform at their peak without worrying about injuries or discomfort. Additionally, the tape can help athletes to maintain proper form and technique by providing extra stability and support.
How to Use Tennis Finger Tape
Tennis finger tape is an essential tool for any tennis player, helping with grip and preventing injury. But how exactly do you use this simple yet effective tool? In this article, we'll explain how to use tennis finger tape to its full potential, so you can enjoy your matches safely and with confidence.
Finger taping is a simple process, but it's important to do it properly in order to get the most out of it. First, you'll need to decide which type of tape is best for your needs. There are two main types: adhesive tape and cloth tape. Adhesive tape is more rigid and provides better support, while cloth tape is more flexible and provides better cushioning.
Next, you'll need to measure the correct length of tape for your fingers. This will vary depending on the size of your hand and the type of tape you're using. Once you've got the right length, you can start to apply the tape. Start at the base of your finger and wrap the tape around it in a spiral pattern, making sure to overlap each layer. Be sure not to wrap the tape too tightly as this could restrict movement and cause injury.
Finally, once you've taped your fingers, you should tuck the end of the tape underneath the previous layer. This will help keep the tape in place and prevent it from coming undone. With these steps, you should be ready to play your next match with confidence.
Tennis finger tape is an invaluable tool for any player. By following these steps, you can ensure that you're using the tape properly and safely, so you can get the most out of your matches.
Benefits of Using Tennis Finger Tape
Tennis finger tape is a useful tool for tennis players. It can be used to protect your fingers from potential injuries during a match. It also helps reduce the risk of developing Tennis Elbow, a common condition among tennis players. The tape is lightweight and flexible, making it easy to apply and comfortable to wear. Additionally, the tape provides a firm grip, allowing players to handle their racket with more precision and accuracy.
Tennis finger tape has numerous benefits. It can help to reduce the risk of developing Tennis Elbow by providing support to the muscles and tendons in the forearm. Also, the tape provides a layer of protection against minor scrapes or cuts while playing. In addition, the tape helps to improve grip, which can help to increase a player's accuracy and power.
The tape also helps to reduce inflammation and swelling of the fingers, which can occur when playing for extended periods of time. Additionally, the tape is designed to be breathable, which helps to prevent moisture from building up and causing skin irritation.
Overall, tennis finger tape is an effective tool that can help tennis players protect their fingers and play better. It can help reduce the risk of injury, improve grip, and reduce inflammation and swelling. If you are looking for an easy and convenient way to improve your performance on the court, tennis finger tape might be the solution.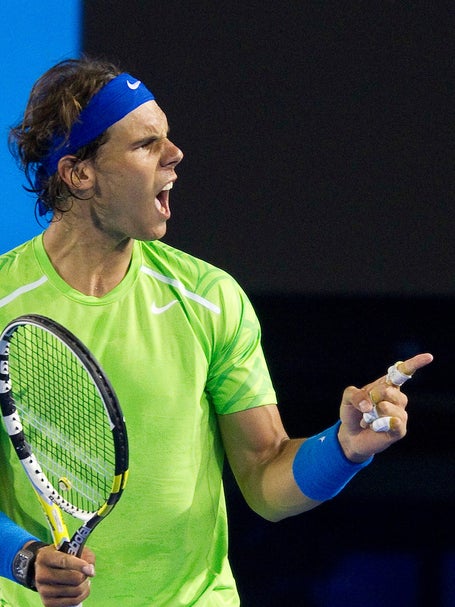 Image source: https://www.tennis-warehouse.com/Mueller_Pro_Strips_12_pack_Abrasion_Tape/descpageMSM-MPS12.html
Potential Drawbacks of Tennis Finger Tape
Tennis finger tape is an increasingly popular tool used by many tennis players to reduce the risk of injury and improve performance. While the tape does have some potential benefits, it is not without its drawbacks. Here are some potential cons of using tennis finger tape in your game.
One of the most common drawbacks of using tennis finger tape is that it can be uncomfortable and interfere with the natural movement of the fingers. The tape can also cause skin irritation and damage due to its adhesive properties. Additionally, the tape can be difficult to remove, and it can take a long time to get all of the adhesive off the skin.
Another potential drawback of tennis finger tape is that it can limit the range of motion in the fingers. This can reduce the player's ability to generate power and spin on their shots, as the fingers are unable to move as freely as they would without the tape.
Finally, the tape can be a distraction during a match, as players can become focused on how tight or loose the tape feels on their fingers. This can prevent them from focusing on playing their best tennis, and it can lead to poor performance.
Overall, while tennis finger tape can offer some benefits, it is important to be aware of the potential drawbacks. Before using the tape in a match, players should carefully consider the pros and cons to make sure it is the right choice for them.
Alternatives to Tennis Finger Tape
Tennis is a great sport that can provide physical and mental benefits, but it can also cause minor injuries such as tennis finger. This is an inflammation of the tendon attached to the finger, caused by repetitive gripping and squeezing of the racquet handle. To prevent tennis finger, many tennis players use tennis finger tape as a support and cushion for the tendon. However, there are other alternatives that can help alleviate the pain and discomfort associated with tennis finger.
One alternative is to use hand and finger exercises to strengthen the tendon and alleviate the pain. These exercises involve squeezing and releasing a ball or other object repeatedly, and can help improve grip and dexterity. Other alternatives include using a wrist brace, wearing gloves, or changing the grip on the racquet handle. Additionally, using an anti-inflammatory cream or taking ibuprofen can help reduce the pain and inflammation associated with tennis finger. Finally, it is important to rest the finger to allow it to heal before returning to the court.
By exploring the alternatives to tennis finger tape, tennis players can find the most effective way to prevent and treat tennis finger and stay on the court.
Where to Buy Tennis Finger Tape
Tennis finger tape is an essential accessory for any tennis player, whether they're a beginner or a professional. It provides support and stability to the joints and tendons in the finger and thumb, preventing injury and enhancing performance. But where do you find the best tennis finger tape?
Fortunately, there are plenty of places to purchase tennis finger tape. You can find it in sporting goods stores, online stores, and even in some pharmacies. However, it's important to make sure that you buy the right type of tape for your needs. Different tapes provide different levels of support and stability, so it's important to choose the right one for your individual needs.
When shopping for tennis finger tape, it's important to consider comfort, durability, and cost. Comfort is key, as the tape should provide support without being too tight or too loose. The tape should also be durable enough to survive multiple uses, and cost should also be taken into consideration.
Once you've decided on the right type of tape for you, it's time to find the right place to buy. Sporting goods stores are a great option, as they often carry a wide variety of different tapes. You can also find them online, and some pharmacies may also carry them.
No matter where you choose to buy your tennis finger tape, make sure to do your research and choose the best product for your needs. With the right tape, you can improve your game and reduce the risk of injury.
FAQs About the Tennis Finger Tape
Q1. What is tennis finger tape?
A1. Tennis finger tape is a type of adhesive tape designed to provide extra support and protection for the fingers of tennis players during games and practices. It helps to reduce the risk of injuries such as sprains, strains, and tears, as well as providing extra grip and stability for the fingers.
Q2. How is tennis finger tape applied?
A2. Tennis finger tape is applied by wrapping the tape around the finger, starting at the top of the finger and working down to the base. It should be applied in a smooth, even manner, making sure that there are no gaps or wrinkles in the tape.
Q3. How often should tennis finger tape be replaced?
A3. The frequency of replacement depends on how often the tape is used. Generally, it is recommended that the tape be replaced after every game or practice session to ensure optimal protection and support.
Conclusion
In conclusion, tennis finger tape is an effective and easy way to provide protection and relief to tennis players who suffer from finger injuries or chronic pain. It is lightweight, flexible, and breathable, allowing players to remain comfortable while playing. Additionally, it is easy to use and can be used on other parts of the body as well. Tennis finger tape is an inexpensive way to keep playing at maximum performance.